Gourmet Tropical Shaved Ice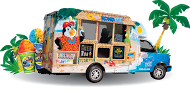 Kona Ice offers a totally unique summer treat - perfect for the whole family! Create your own tropical shaved ice with any of our 40+ delicious flavors! Guests go crazy for our do-it-yourself Flavorwave built into the side of our truck.

Here at Kona Ice, we are dedicated to serving our customers in every way possible. As a family business, we are constantly working to better our product and improve the way we connect to the community because we truly care about making a difference. We can serve hundreds of people/hour from our clean and colorful Tropical themed food truck. We bring the FUN to any type of event including corporate events, schools, youth sports, festivals, and private events.

Kona Ice prides itself on providing a FUN experience while reaching out to our community to assist with fundraising opportunities. We offer the easiest and most successful way of raising funds for schools, sports organizations, and charity events. Every day we work to spread happiness...one shaved ice at a time!

Contact us at ngerace@kona-ice.com with any questions or pricing inquiries.